Step 1 – Create an Account
All you have to be is 19 or older. Simply fill out your name, email address and choose a password
Step 2 – Browse our Shop
Go to our Shop and choose the items you wish to purchase and add them to your cart.
Step 3 –  View your Cart
Click on cart cart icon at the top right of the screen, review your items and make sure they are correct. Click Proceed to Checkout.
Step 4 – Billing and Shipping Information
Fill out your Billing and Shipping Information. Please check the Shipping to a different address box  if you are shipping to a address different than your billing address. After your first order as a member, your information will auto-fill so please make any changes now if your information has changed.
***Please be advised orders that are shipped to the wrong address due to incorrect shipping information will not be reimbursed***
Step 5 – Place your Order
Please read the Terms and Conditions, agree by marking the check the box and then click Place Order
Step 6 – Send Payment
Go to the E-transfer page on your banking website and fill out the fields according to the Coloured Boxes in the following images.
Email: behappytoday09@gmail.com
Secret Question: Order Number <- replace with your order number
Secret Answer: tots123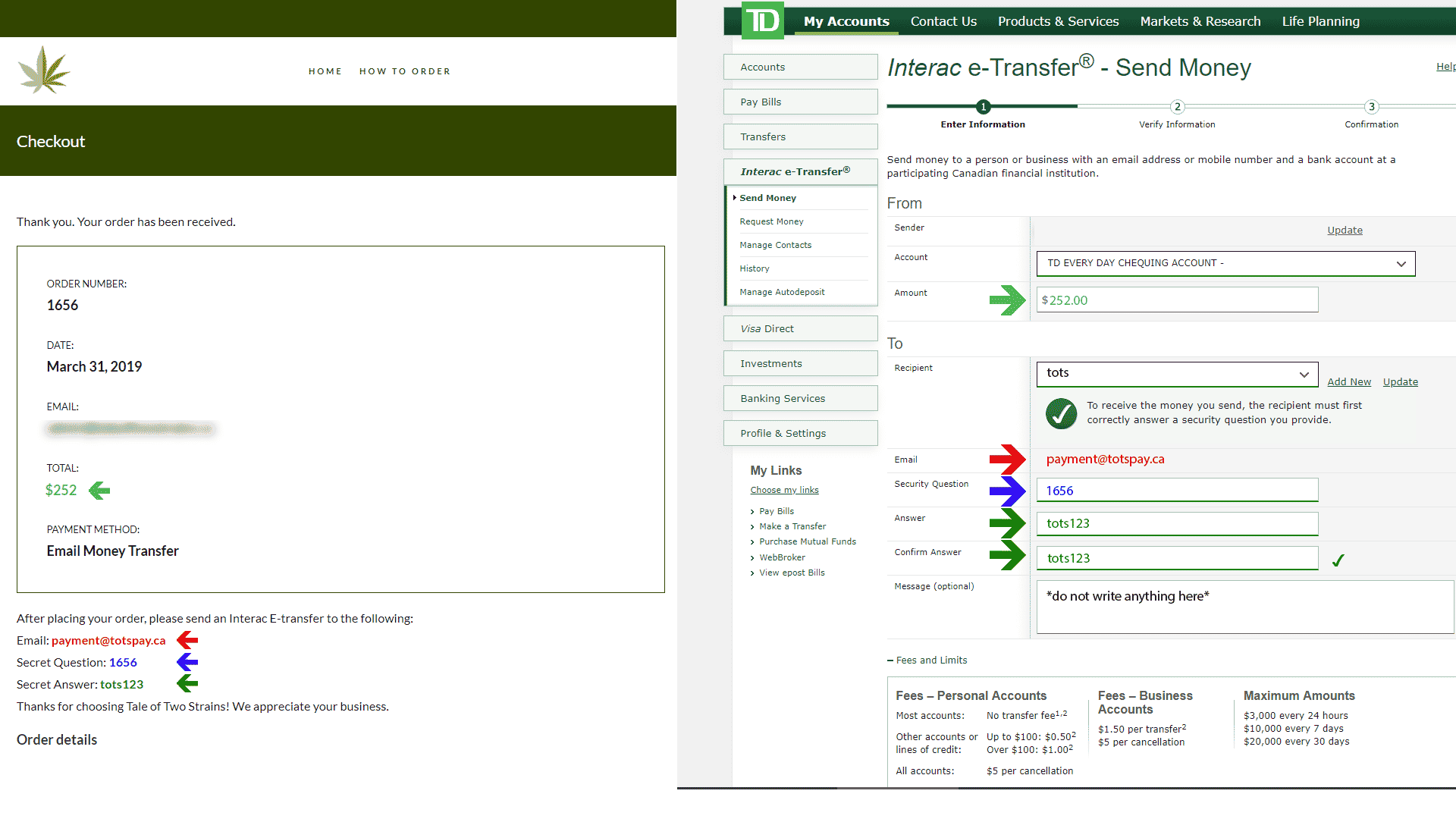 ***Please do not put any memos or notes when sending the payment**
How much are the shipping fees?
We ship via Canada Post Xpresspost. Orders of 150$ or more are shipped free of charge and any orders under 150$ are subject to 20$ flat fee for customers from the provinces of BC,AB,SK,MB or 25$ flat fee for all other Provinces and Territories.
Which payment methods are accepted?
At this time we are only able to accept Interac E-Transfer. Please have a look Here to learn more about how Canadians can make payments via Interac E-Transfer or check out Interac.ca
We will be expanding our payment options in the future.
How long will deliveries take?
Deliveries are subject to the shipping location. We use Canada Post's Xpresspost which can take up to 2-3 days. You can track your order with the tracking number provided with your order confirmation email. Just input the tracking number into the proper field at CanadaPost.ca
What if my package did not arrive?
If you do not receive your order 2 days after the estimate arrival time please message us at support@taleoftwostrains.cc. We will be more than happy to help with locating the order.
For orders that are unrecoverable we will send out and identical order to the original. Exceptions to this guarantee will be made for Northern Quebec and the Canadian Territories. This is due to a high number of lost or unrecoverable packages that are sent to this area.
Please be aware of any holidays or events that take place between your shipping and arrival dates and factor in extra delivery time accordingly.
Please make sure you read through your shipping information carefully and double check to see that it is all correct. We will not reimburse orders that are shipped to the wrong address due to errors made to the shipping address of the customer.
Here at Tale of Two Strains we take privacy and security very seriously. We do not share any account information with anybody and always ship our packages as discreetly as possible. Our packages are double vacuumed sealed as well as shipped in a non-descript box per Canada Post instructions.
Anonymity
The entire process is to be kept anonymous. We ensure that Canada Post is not to be aware of the contents of the package and there is to be no indication or markings on the outside of the package as to its contents.
Packaging
We package the contents in such a way as to minimize scent and damage during postal handling.
Xpresspost packages include $100 insurance coverage against loss/damage.
Liability
Packages that do not arrive and/or lost in transit will be replaced with the same order. All orders 500$ or more must be signed for upon receiving the package.
A claim for loss/damage can also be initiated by contacting Canada Post customer service but we would prefer if you would contact us first at support@taleoftwostrains.cc or through our Contact Us page.
What exactly happens after ordering?
After we confirm your order, an employee will process your order and ship as soon as payment is received. You will receive a tracking number along with a copy of your receipt to the email you have provided. Please allow time for your E-transfer payment to be received as this could be anywhere from 30 minutes to up to 24 hours. Your order will not be processed before we have fully received payment.
Do I receive an invoice for my order?
Yes, all invoices are emailed after an payment has been received and the order has been processed. A Canada Post Tracking number will also be included.